I have just recently added a Potawatomi Native Resources page to this site. Right now, it contains a few little gems of information about our traditional language as well as some links. Hopefully, I will have much much more information to add to this site in the future!
Bode'wadmi Language Resources
Currently, I have only a few things to share, two of them from my father, ShupShe (Howard L. La Hurreau). They are here as a gift to all Nishnabe people.
Hopefully someday I will know the native language well enough to create a few lists of my own... The first one is a small list of Bode'wadmi words, written in a form that should help aid pronunciation. The second is a chart of the common Bode'wadmi language symbols, taken from page 60 of "The Good Red Road", presented below. (Note: if you cannot view this chart, please email me.) I have also made these symbols available as a font. Note that this font is still in the early draft stages, and may not be suitable for everyone.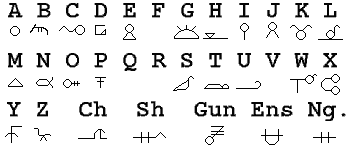 'Official' Tribal Resources
The Nottawaseppi (Huron Band Potawatomi) do not appear to have an "official" home page right now. However, there are two resources which have some useful information about the tribe. The first is part of a fourth grade project by Mrs. Janice Stark's class in Georgetown-Ridge Farm, Illinois. The second is an EPA Report on the tribe , which contains a few helpful addresses. If you know the address for the official Huron Band site, please email me. Also, if you know of any more Potawatomi First Nations, please tell me. Migwech!
More Bode'wadmi Resources